Listen to this article
From a malfunctioning Spider-man robot, to new product releases, to California's ban on autonomous tractors, there was no shortage of things to cover in June.
Here are the Top 10 most popular robotics stories on The Robot Report in June 2022. Subscribe to The Robot Report Newsletter to stay updated on the robotics stories you need to know about.
---
10. iRobot unveils iRobot OS home operating system
iRobot introduced the latest evolution of its Genius Home Intelligence platform the iRobot OS. The operating system includes enhanced pet features, voice commands and object detection features. The iRobot OS works on the Roomba j7 and j7+ robot vacuums, and leverages feedback from iRobot's over 20 million connected devices sold. The system is already enabling over 2.7 million cleaning tasks every day. Read More
---
9. Symbotic closes SPAC deal and debuts on NASDAQ
Symbotic made its debut on the NASDAQ under ticker symbol "SYM" after completing its business combination with SVF Investment Corp. 3. The combination was approved at a meeting of SVFC shareholders on June 3, 2022. Symbotic's system includes a fleet of fully autonomous robots that receive, store and retrieve products in distribution centers. It utilizes hundreds of autonomous mobile robots called "Symbots". Read More
---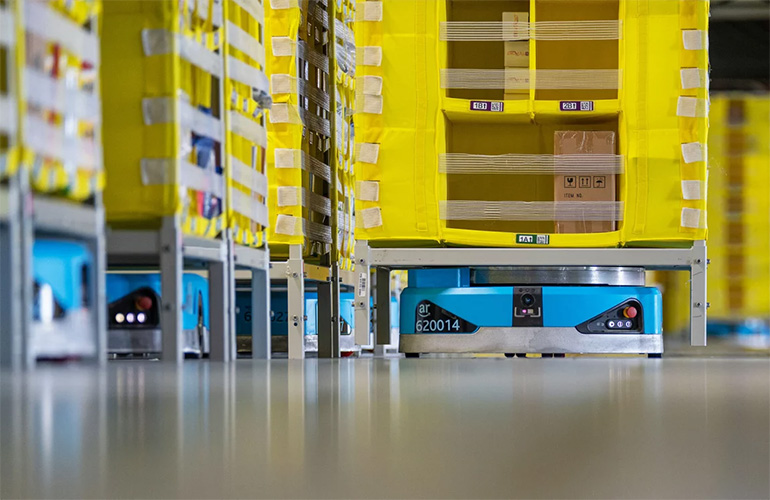 8. A decade after acquiring Kiva, Amazon unveils its first AMR
Amazon first entered the mobile robot space in 2012, when it acquired Kiva Systems for $775 million. Kiva offered automated guided vehicles (AGVs) that could navigate a warehouse using a series of computerized barcode stickers on the floor. Now, a decade later, Amazon has announced its first fully autonomous mobile robot (AMR), Proteus. Proteus is an AMR with a similar design to the Kiva robots that have been at work in Amazon's warehouses for years. Read More
---
7. Watch Ghost Robotics' quadruped go swimming
Ghost Robotics' Vision 60 quadruped robot can now swim. The Vision 60 can be fully amphibious when equipped with Onyx Industries' Nautical Autonomous Unmanned Tail (NAUT). According to Ghost Robotics, adding NAUT makes Vision 60 the first fully amphibious quadruped. While others have been made waterproof so they can walk through shallow water, Vision 60 is the first to actually "swim" in water. Read More
---
6. Robot sales hit record high in first quarter of 2022
Robot sales hit a record high in the first quarter of 2022, with North American companies purchasing the most robots ever in a single quarter, according to industry statistics release by the Association for Advancing Automation (A3). Robot sales increased 28% from Q1 of 2021, when North American companies purchased 9,098 units, to 11,595 units sold in 2022. Sales increased 43% from $466 million in Q1 2021, to $646 million in 2022. Read More
---
5. Calif.'s ongoing ban of autonomous tractors a major setback
Monarch Tractor, maker of fully electric, driver-optional tractors, has been working with Cal/OSHA to amend Title 8, Section 3441(b) to clarify the use of driver-optional tractors without a human operator stationed on the vehicle, within a strict set of safety guidelines. Unfortunately, its efforts have yet to enact any change. Cal/OSHA denied Monarch's petition (PDF) by a 4:3 vote. Cal/OSHA denied a similar Petition 571 brought by the Association of Equipment Manufacturers in 2019. Read More
---
4. Meet UR20: Universal Robots' fastest, strongest cobot ever
Universal Robots (UR) at Automatica finally unveiled what it's been teasing the last couple of months. It introduced the UR20, the Danish company's fastest and strongest collaborative robot arm ever. The UR20 is expected to be available for pre-order in late Q4 2022 and will begin shipping in Q2 2023 for an undisclosed price. Read More
---
3. China's Chang'E-5 team determines source of lunar water
Back in January, we wrote about China's Chang'E-5 lunar lander discovering water on the moon for the first time ever on-site and in real time. Now, the team behind the lander has determined where that water came from. Chang'E-5 landed on the moon in December 2020 and was tasked with collecting lunar rocks and soil to bring back to Earth. Read More
---
2. NVIDIA, Ready Robotics look to simplify automation deployments
Ready Robotics is bringing its Forge/OS universal operating system to NVIDIA's Omniverse Isaac Simulator. This partnership comes as part of NVIDIA's strategic investment in Ready Robotics. The amount of the investment wasn't disclosed. NVIDIA is joined by existing investor Micron Technology, as well as new investor SIP Global Partners. Ready Robotics said the new funding will allow it to continue developing its Forge/OS 5 platform and expand to support a growing ecosystem of partners and developers. Read More
---
1. Watch Disneyland's Spider-Man robot crash during a stunt
Since it was unveiled as part of the Avengers Campus on June 4, 2021, Disneyland's Spider-Man robot has successfully performed its stunts countless times. On June 9, 2022, however, robot Peter Parker momentarily lost its Spidey-Sense. The Spider-Man robot failed in mid-air and crashed into the W.E.B. facility that is part of the stunt setup. And it was all caught on video. You can watch the incident below. Read More