Listen to this article
What a month it was for robotics. Whether it was China revealing its five-year plan for robotics dominance or Toronto banning sidewalk robots, there was no shortage of robotics stories to cover in December 2021.
Here are the Top 10 most popular robotics stories on The Robot Report in December 2021. Subscribe to The Robot Report Newsletter to stay updated on the robotics stories you need to know about.
---
10. MiR is building autonomous pallet jacks
Mobile Industrial Robotics (MiR) and Logitrans A/S teamed up to build autonomous pallet jacks. The companies intend to combine MiR's autonomous navigation and software capabilities with Logitran's electric pallet jacks. The plan is to make both a fully autonomous pallet jack and a semi autonomous pallet jack. MiR already has robots that can transport pallets, but they require special pallet racks or integration of accessories. Read Story
---
9. Brain-computer interface startups augmenting human body
One of the most promising control methodologies for roboticists aiming to develop medical therapies for quadriplegics and paraplegics is the brain-computer interface (BCI). This technology creates a communication pathway from the brain's electrical activity to an external device, such as a robotic arm or computer. Read Story
---
8. China unveils five-year plan for robotics
China's Ministry of Industry and Information Technology, in collaboration with 14 other government departments, revealed how it will continue to grow the country's robotics industry. The overarching goal is to make China a key source of global robotics innovation. The government also expects the average annual growth rate of operating income in the robotics industry to exceed 20%. Read Story
---
7. AutoStore loses ASRS patent fight against Ocado
AutoStore lost its patent infringement lawsuit against British online supermarket group Ocado Group. Both companies develop automated storage and retrieval systems (ASRS) that operate on similar principles. U.S. ITC Judge Charles Bullock said three AutoStore patents are invalid, while Ocado doesn't infringe upon a fourth patent. Read Story
---
6. Bossa Nova de-emphasizes robots in 'retail AI' rebrand
Bossa Nova has pivoted its business yet again. The company is taking a "broader approach" to image-based AI analytics for retailers and de-emphasizing the role of robotics. The primary capture device Bossa Nova now touts upfront on the website is a mobile app, not a mobile robot. Read Story
---
5. Symbotic going public via Softbank SPAC
Symbotic is going public via a merger with SVF Investment Corp. 3, a special purpose acquisition company (SPAC) sponsored by an affiliate of SoftBank Investment Advisers. Upon closing of the deal, which is expected to happen in the first half of 2022, Symbotic will trade on the Nasdaq under the ticker symbol "SYM." The transaction is expected to deliver up to $725 million of primary gross proceeds for Symbotic. Read Story
---
4. Industry crossroads: robotics meets interoperability
Like the sensor and telecom industries before it, the robotics industry has come to a crossroads on interoperability, which is the ability for robots from multiple manufacturers to work and communicate with each other. When telecom and sensor companies came to this crossroads, they put their differences aside and came to agreements on how to work together so more users would be able to use their equipment. Can the robotics industry do the same? Read Story
---
3. Toronto bans sidewalk robots
The Toronto City Council voted to ban sidewalk robots until the council has the opportunity to further study the effects they have on the community. The ban will prevent all robots that operate on anything other than muscular power, are automated or remote controlled, and don't transport passengers from traveling on the sidewalks and in bike lanes. Violators will face a $150 fine. Read Story
---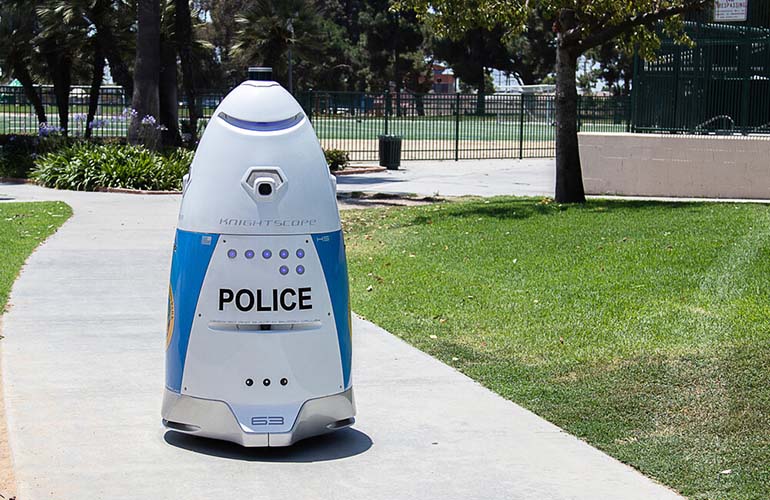 2. Knightscope IPO taking security robots public
Knightscope, a Mountain View, Calif.-based developer of autonomous security robots, is going public on the NASDAQ under the ticker symbol "KSCP." Knightscope will be offering $40 million of Class A common stock at $10 per share. Knightscope plans to use the proceeds from the initial public offering (IPO) to continue to scale its fleet of security robots and to invest in new technologies. Read Story
---
1. 20 most popular robotics stories of 2021
2021 was a big year for robotics. Nine months into the year, the industry saw record numbers of orders, and growth in non-automotive industries. From autonomous vehicles to delivery robots to acquisitions and shutdowns, the year was filled with big developments. Here are the top 20 most popular stories on The Robot Report in 2021 Read Story