Listen to this article
2021 was a big year for robotics. Nine months into the year, the industry saw record numbers of orders, and growth in non-automotive industries. From autonomous vehicles to delivery robots to acquisitions and shutdowns, the year was filled with big developments.
Here are the top 20 most popular stories on The Robot Report in 2021. Subscribe to The Robot Report Newsletter or listen to The Robot Report Podcast to stay updated on the robotics stories you need to know about.
---
20. Robotics Investment Recap – April 2021
The Robot Report tracked 38 robotics investments worth more than $4.8 billion in April 2021. This is quite the rebound from the same time last year when, amidst the uncertainty caused by the COVID-19 pandemic, robotics companies raised about $600 million. This marks a 700-plus percent increase in robotics investments year-over-year. There also were eight mergers and acquisitions and one IPO in April 2021. Read Story
---
19. TurtleBot 4 re-designed from ground up with ROS 2
Clearpath Robotics and Open Robotics announced TurtleBot 4, the next generation of the popular open-source mobile robotics platform. TurtleBot 4 aims to build on the success of previous versions by providing a low-cost, fully extensible, ROS-enabled reference platform for robotics researchers, developers and educators. The mobile base of TurtleBot 4 is built on the iRobot Create 3 educational robot, which provides an IMU, optical floor tracking sensor and wheel encoders for accurate positioning and localization. It also includes a suite of sensors including IR, cliff, bump and slip detection, along with a 26Wh Li-ion battery. Read Story
---
18. Q&A: Ingenuity Mars Helicopter chief engineer Bob Balaram
Bob Balaram, the chief engineer of the Ingenuity Mars Helicopter, was featured on NASA's Small Steps, Giant Leaps podcast. The Ingenuity Mars Helicopter, which rode along with the Mars Perseverance Rover, was the first aircraft to attempt controlled flight on another planet and is a marvel of engineering. Balaram described what it took to develop the helicopter and what to expect during the experimental flights. Read Story
---
17. DeepMind acquires MuJoCo physics engine for robotics R&D
DeepMind, an AI research lab and subsidiary of Alphabet Inc., acquired the MuJoCo physics engine for robotics research and development. DeepMind is currently working to open-source MuJoCo and make it free for everyone in 2022. When open-sourcing the system is complete, the GitHub repository will become the new home for MuJoco. Customers with existing paid licenses for MuJoCo can go to roboti.us for continued support. Read Story
---
16. Softbank Robotics Europe cuts workforce 40% in shake-up
Softbank Robotics Europe, the group behind two of the more recognizable robots, laid off 40% of its workforce. On July 7, the developer of the famous Nao and Pepper robots reduced its Paris-based workforce that had 330 employees as of March 2021. The Robot Report confirmed this news, which was first reported by French media outlet Le Journal du Net. Softbank Robotics Europe lost $38 million in its fiscal 2019-2020 year and more than $119 million over the last three years, according to Le Journal du Net. Read Story
---
15. Fetch Robotics acquired by Zebra Technologies for $290M
Fetch Robotics, a San Jose, Calif.-based developer of autonomous mobile robots (AMRs) for logistics, has been acquired by Lincolnshire, Ill.-based Zebra Technologies for $290 million. The acquisition closed in August. Zebra Technologies already owned 5% of Fetch Robotics through an earlier investment. Zebra is acquiring the other 95% of Fetch Robotics. According to the announcement, Fetch Robotics "is generating annualized run-rate sales of approximately $10 million." Prior to this acquisition, Fetch Robotics, which was founded in 2014, had raised about $94 million. Read Story
---
14. John Deere acquires Bear Flag Robotics for $250M
Bear Flag Robotics raised $7.9 million in seed funding in January 2021. That funding quickly became chump change. The Calif.-based developer of autonomous driving technology for tractors was acquired by John Deere for $250 million. John Deere said in a statement that the deal accelerates the development of farm automation. Founded in 2017, Bear Flag Robotics retrofits its autonomy stack onto existing tractors. It uses cameras, LiDAR and radar technology for redundant, 360-degree situational awareness on a farm. Read Story
---
13. The state of industrial robotics: challenges & opportunities
The Massachusetts Institute of Technology (MIT) released a study called "The State of Industrial Robotics: Emerging Technologies, Challenges, and Key Research Directions" that described challenges of adopting and using industrial robotics. It also made recommendations about how to move the industry forward. The report identified challenges such as a lack of standards and inflexibility. It recommended the industry move towards better balance of speed and safety and improvements to enabling technologies. Read Story
---
12. Cruise, Waymo lead way in Calif. autonomous vehicle testing
California's Department of Motor Vehicles (DMV) released its annual Disengagement Report, which breaks down the number of times a human driver takes over control of an autonomous driving system being tested on the state's public roads. The DMV released reports for 29 companies for the period from December 2019 to November 2020. Waymo (29,944.69) and Cruise (28,520.34) are the leaders in the clubhouse when it comes to the number of miles driven between disengagements. China's AutoX (20,367) is a distant third. This is the sixth straight year in which Waymo increased its number of miles driven between disengagements. Read Story
---
11. Intel issues end-of-life notice for RealSense LiDAR
Intel issued an end-of-life (EOL) notice (PDF) for the RealSense LiDAR, tracking and facial authentication products. This is, of course, part of Intel's plan to wind down its RealSense business. Intel discontinued a number of products, including the Intel RealSense LiDAR Camera L515 and the Intel RealSense ID Camera F455. The last dates these products can be ordered, according to Intel, will be Feb. 28, 2022. The last date any of them will be shipped is March 31, 2022. Read Story
---
10. Ambi Robotics, formerly Ambidextrous, raises $6.1M for picking robots
Ambi Robotics, formerly known as Ambidextrous Laboratories, raised $6.1 million in seed funding for its picking robots and operating system that are based on simulation-to-reality artificial intelligence (AI). Co-founded by the great Ken Goldberg, a professor at UC Berkeley, Ambi Robotics said it is exiting stealth mode, although its work on improving robotic grasping hasn't been a secret in years. Ambi Robotics has two flagship products, the AmbiSort and the AmbiKit. In September, Ambi Robotics raised $26 million in Series A funding. Read Story
---
9. 2021 perception sensor industry map
Over the past decade, the perception industry has exploded with new companies, new technologies, and the deployments of millions of sensors in industries ranging from the traditional (automobiles) to the cutting-edge (space travel). While incumbents have locked up majority market shares in some segments, other segments have seen the rise of dominant new players that have become suppliers to some of the world's largest companies. Read Story
---
8. DoorDash is building its own delivery robots
DoorDash introduced DoorDash Labs, its robotics and automation division that's been operating since 2018. DoorDash has tested last-mile delivery with a number of robotics companies since 2017, including Cruise, Marble and Starship Technologies. However, none of those solutions seem to have stuck for DoorDash. The food delivery giant appears to be developing its own autonomous delivery robots. DoorDash hasn't publicly revealed any details about its delivery robots, but it has filed several relevant patents. Read Story
---
7. Cruise's Vogt weighs in on LiDAR SPACs
In the last five months of 2020, five LiDAR companies – Aeva, Innoviz, Luminar, Ouster, Velodyne – went public or announced they soon would via a special purpose acquisition company (SPAC). There are pros and cons of going public via SPAC, as we detail here, and a key figure in the autonomous vehicle industry doesn't think the trend will end well for LiDAR makers. Read Story
---
6. Boston Dynamics' Stretch robot handles truck unloading & palletizing
Using robots to unload freight on receiving docks isn't a novel idea. A quick YouTube search will return a slew of results. But many of these previous approaches have been stifled by high costs and the inability to handle a growing variety of packages. Boston Dynamics is throwing its innovative hat into the ring. It revealed its newest robot, Stretch, a mobile manipulator designed to move boxes out of trucks and around warehouses. Read Story
---
5. Nuro R2 autonomously delivering Domino's pizza in Houston
Nuro, a 2020 RBR50 Innovation Award winner, launched autonomous pizza delivery in Houston with Domino's. Select customers who place an online order – on certain days and times – from the Domino's in Woodland Heights can have their food delivered by Nuro's R2 robot. Customers who are selected for delivery via the Nuro R2 will receive text alerts updating them on R2's location and provide them with a unique PIN to retrieve their order. Customers may also track the vehicle via GPS on their order confirmation page. When the Nuro R2 arrives, customers will be prompted to enter their PIN on the vehicle's touchscreen. Read Story
---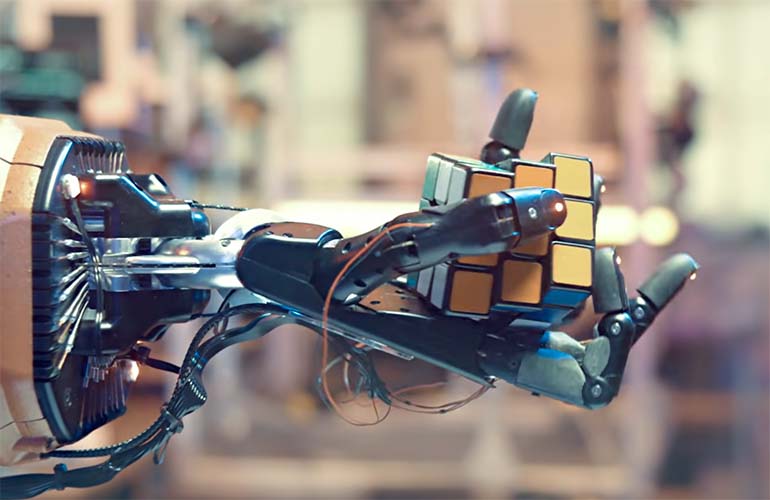 4. OpenAI abandons robotics research
According to OpenAI cofounder Wojciech Zaremba, the company recently disbanded its robotics team. The company will continue to invest in other areas where there is adequate data for training. In Zaremba's eye's, work in this area might continue once there are powerful enough video models to support the training data sets necessary for building a viable model. Read Story
---
3. How Boston Dynamics makes Atlas run, flip & vault
What does it take for a robot to run, flip, vault, and leap like an athlete? Creating these high-energy demonstrations is a fun challenge, but Boston Dynamics' technical goals go beyond just creating a flashy performance. On the Atlas project, it uses parkour as an experimental theme to study problems related to rapid behavior creation, dynamic locomotion, and connections between perception and control that allow the robot to adapt – quite literally – on the fly. Read Story
---
2. Confused Waymo robotaxi shows challenges of scaling AVs
You might not know it, but chances are you've seen some of Joel Johnson's work. Better known as YouTuber JJRicks, he is the most prolific documenter of Waymo One Level 4 robotaxis in Chandler, Arizona – and probably the most frequent passenger. But the Waymo robotaxi ride he took on May 3 is one he'll never forget. The Waymo robotaxi needs to make a right turn onto a multi-lane main road, but the far right lane was closed off by orange construction cones. And, boy, did they confuse the vehicle. Read Story
---
1. Abundant Robotics shuts down fruit harvesting business
Abundant Robotics, a Hayward, Calif.-based agricultural robotics company founded in 2016, has shut down. According to a memo about Abundant's liquidation obtained by The Robot Report, the company "was unable to develop the market traction necessary to support its business during the pandemic." On June 29, 2021, Abundant put up for sale all of its intellectual property and assets. Abundant said it has a "host of IP, including a large body of vacuum manipulation patents (and patent applications), a patented sensory system to allow the vacuum to navigate obstruction, a patented world-class vision system for identifying fruits and their quality and several software patents for the machine's automated operations, including a solution to solve for "doubles" that enables the machine to pick multiple fruit at once." Read Story