Listen to this article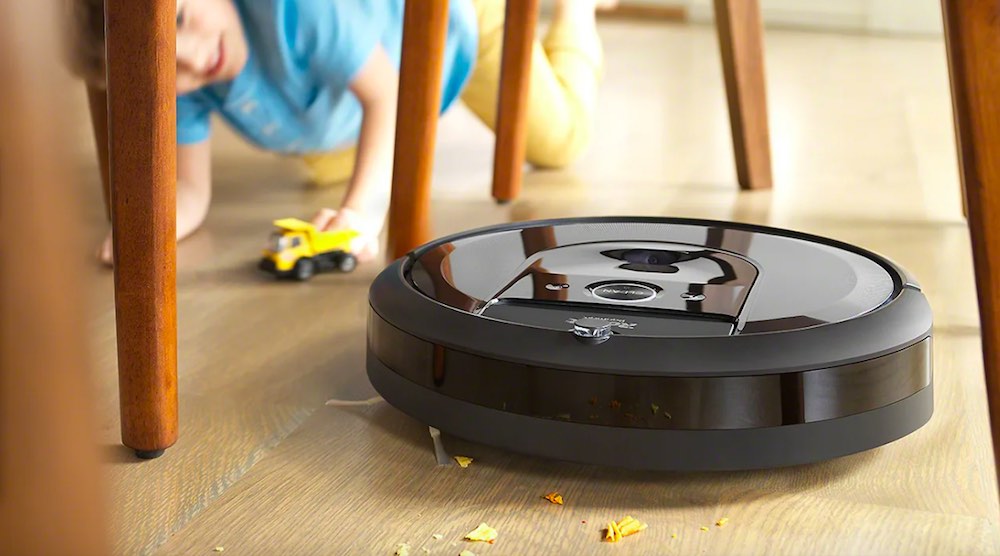 Will Astro, Amazon's underwhelming consumer robot, soon be able to clean floors? Probably not. But Amazon today upped the ante in its consumer robotics game by announcing it's acquiring iRobot, maker of the popular Roomba robot vacuum series, for about $1.7 billion.
Amazon will acquire iRobot for $61 per share in an all-cash transaction, including iRobot's net debt. Completion of the transaction is subject to customary closing conditions. On completion, Colin Angle will remain as CEO of iRobot.
If the deal falls apart, Reuters reports that Amazon will have to pay iRobot a $94 million termination fee.
"We know that saving time matters, and chores take precious time that can be better spent doing something that customers love," said Dave Limp, SVP of Amazon Devices. "Over many years, the iRobot team has proven its ability to reinvent how people clean with products that are incredibly practical and inventive—from cleaning when and where customers want while avoiding common obstacles in the home, to automatically emptying the collection bin. Customers love iRobot products—and I'm excited to work with the iRobot team to invent in ways that make customers' lives easier and more enjoyable."
"Since we started iRobot, our team has been on a mission to create innovative, practical products that make customers' lives easier, leading to inventions like the Roomba and iRobot OS," said Colin Angle, chairman and CEO of iRobot. "Amazon shares our passion for building thoughtful innovations that empower people to do more at home, and I cannot think of a better place for our team to continue our mission. I'm hugely excited to be a part of Amazon and to see what we can build together for customers in the years ahead."
iRobot has pitched itself as a player in the smart home realm for a number of years now. So its robot vacuums and mops, along with its Genius Home Intelligence software, could be a nice addition to Amazon's smart home portfolio. But it has been a challenging time for iRobot.
The relationship between Amazon and iRobot goes back years, too. In July 2005 before iRobot went public, it listed Explore Holdings LLC as an investor and named Elizabeth Korrell as its manager. Explore Holdings was another name for Bezos Expeditions, Jeff Bezos' personal investment firm at the time, and Elizabeth Korrell was an attorney for Bezos. Beyond that, iRobot uses Amazon Web Services (AWS) and developed voice integration between Alexa and the Roomba.
Big bet on consumer robotics
"It's great to see a very large company like Amazon make a big bet on consumer robotics," Helen Greiner, who co-founded iRobot in 1990 with Angle and Rodney Brooks, told The Robot Report. "Amazon just invested in a practical, single-purpose robot that really gets the job done."
Greiner is now CEO of Tertill, a Massachusetts-based robotics startup developing a weeding robot for vegetable and flower gardens. The robot has often drawn comparisons to the Roomba due to its consumer application and the fact that it was co-created by Joe Jones, who developed the initial proof-of-concept for what became the Roomba.
"Some of the best times of my life were spent at iRobot making the Roomba, getting people like Bezos interested in robotics, putting stuff out into the world and making a difference for people," Greiner said. "That's what we did at iRobot and now that's what we're doing at Tertill."
iRobot's second-quarter revenue fell 30% due to weak demand and cancellations from retailers in North America and Europe, Middle East and Africa. The company also warned of weaker growth going forward. iRobot blamed that on inflation and the impact of the war in Ukraine, but certainly increased competition in the robotic cleaning space is playing a role, too.
The need to diversify its revenue streams is partially why iRobot launched a handheld vacuum in early 2021 and then spent $72 million in late 2021 to acquire Aeris Cleantec AG, a Switzerland-based developer of air purifiers. At the time of the Aeris acquisition, Angle said iRobot was optimistic that "air purification will be a $150 million in annual revenue product category for iRobot within the next several years while also helping improve the long-term profit profile of our company."
iRobot also acquired Root, an educational robotics company, in 2019. iRobot has also had a robot lawnmower in the works for years, but it hasn't reached the market. iRobot delayed its robot lawnmower in April 2020, blaming the COVID-19 pandemic, and hasn't really talked about the product since.
Amazon buys another robotics company
Amazon has now acquired at least five robotics companies since 2012. That list includes:
And while this technically isn't an Amazon acquisition, Blue Origin, Bezos' sub-orbital space company, acquired Honeybee Robotics for an undisclosed amount
According to Reuters, Amazon has cash and cash-equivalents of over $37 billion as of the second quarter. So there's plenty of money for Amazon to continue its acquisition spree of robotics companies. If this deal goes through, it would be Amazon's fourth most-expensive acquisition ever, according to The New York Times. The only bigger acquisitions would be Whole Foods ($13.7 billion in 2017), movie studio MGM ($8.5 billion in 2021) and One Medical, a chain of primary care clinics around the United States, that Amazon agreed to acquire, but hasn't closed on, just last month for $3.9 billion.
Amazon's acquisition would also mark the end of iRobot's 32-year independence. It initially focused on military robots, including the PackBot. iRobot sold its defense division in 2016. The Roomba was first introduced in 2002, and iRobot began trading on the NASDAQ in November 2005. iRobot also acquired Evolution Robotics, developer of the Mint floor mopping robot in 2012.