Listen to this article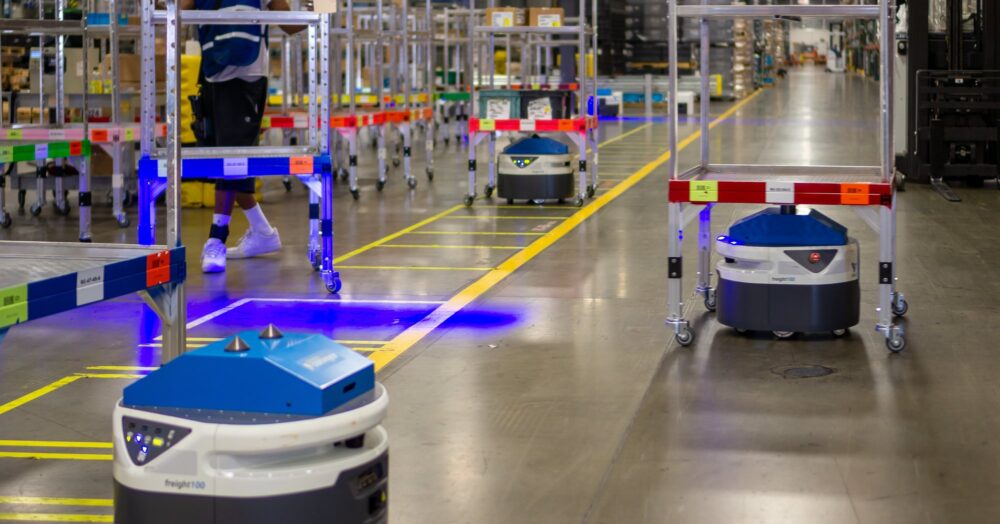 Thursday, March 31, 2022
2 PM ET / 11 AM PT
Changes in consumer behavior – driven by expectations of omni-channel commerce and rapid fulfillment, have added significant complexity to the supply chains of manufacturers, retailers, distributors and 3PLs. During a period when business models have pivoted, demand has steadily risen and shipping windows have tightened, it is the warehouse which has borne the brunt of the disruption.
Technology and automation can help organizations deal with the impact of increased complexity in the warehouse. However, understanding where to begin relative to your organization's particular needs, and how to achieve higher levels of automation where it makes sense, is crucial to success.
Join guest speaker from IDC Global Supply Chain Research Manager, Jordan Speer, plus Körber's John Santagate and Zebra's Stefan Nusser as they provide actionable insights for companies of all sizes and maturity levels.
Attendees of this webinar will learn how:
Automation will benefit your organization.
To take your automation to the next level.
To deliver excellence through automation.
Date / Time – Thursday, March 31, 2022 2 PM ET / 11 AM PT
Sponsored by:
---
Speakers
Jordan Speer is Research Manager for IDC Retail Insights, responsible for covering the global supply chain. Her core research examines how digital technology opens opportunities to better connect and optimize the execution of the end-to-end supply chain from order creation through order fulfillment. Her research will cover sourcing, transportation, warehouse and labor management, returns, and global trade management with particular emphasis on how leading-edge technologies such as AI and analytics are key to evolving and improving these processes. Speer works with retailers and technology providers to help all parties understand where the industry is headed and which best practices will align with their strategies to take them there.
John Santagate leads Körber Supply Chain Software as the Vice President of Robotics. He drives the strategy for autonomous mobile robotics, warehouse robotics, and the robotics partner network. As a key component of Körber's end-to-end solutions, he ensure technologies drive customer success and integrate seamlessly with the broader Körber portfolio. Solving complex challenges and opening new opportunities through technology and innovation, Santagate spent his career in supply chain making his customers the most efficient and profitable business in their industries. Prior to the role at Körber, he acted as a consultant to industry-leading organizations to transform their supply chains with Tata Consultancy Services in the Supply Chain Center of Excellence. He was also a leading robotics and supply chain industry analyst at IDC for five year, where he focused on market trends, forecasts, and thought leadership for supply chain robotics and business process evolution.
Stefan Nusser is Chief Product Officer at Fetch Robotics, overseeing product strategy for all Fetch robots and solutions. Before joining Fetch, he was Senior Product Manager at Google, where he led product development efforts in the area of Cloud AI, Robotics and Search Infrastructure. Prior to that, Nusser served as CEO of collaborative robot startup Redwood Robotics (acquired by Google) and Executive Director of Solutions at robotics incubator Willow Garage. Before venturing into robotics, he spent 15 years at IBM Research, leading world-class research teams in the areas of security, HCI and Services Science. Nusser is named co-inventor on more than 20 US patents, has co-authored two books and over 15 peer-reviewed publications. He holds and MBA and a PhD in Business Informatics from Vienna University for Business Administration and Economics.
Dan Kara is Vice President, Robotics at WTWH Media where he chartered with driving the company's robotics initiatives, including websites The Robot Report, Robotics Business Review, Mobile Robot Guide and Collaborative Robotics Trends and the Robotics Summit and Expo, Healthcare Robotics Engineering Forum, RoboBusiness Conference & Expo and the International Field Robotics Engineering Forum. Prior to joining WTWH, he was Practice Director, Robotics and Intelligent Systems at ABI Research and Chief Research Officer for Myria RAS, both research and advisory services firms focused on automation, robotics and intelligent systems. Dan was also President of Robotics Trends, an integrated media and research firm serving the personal, service and industrial robotics markets. Dan has also worked as Executive Vice President of Intermedia Group, and Director of Research at Ullo International.
---
There is no charge to attend this webinar.