Listen to this article
What a month it was for robotics. Whether it was DeepMind acquiring the MuJoCo physics simulator or Waymo's self-driving cars getting stuck on a dead-end street in San Francisco, there was no shortage of robotics stories to cover in October.
Here are the Top 10 most popular robotics stories on The Robot Report in October 2021. Subscribe to The Robot Report's newsletter to stay updated on the robotics stories you need to know about.
---
10. Retrofitting a Classic Mini with an autonomy stack
Adam Rodnitzsky and the folks at Tangram Vision added an autonomy stack to a Classic Austin Mini Cooper. The car didn't drive autonomously drive around Thunderhill Raceway Park, but it was able to gather data at high speed. It was an opportunity for Tangram Vision to test new sensor streaming, fusion, and runtime modules that our team has been building over the past few months. Read Story
---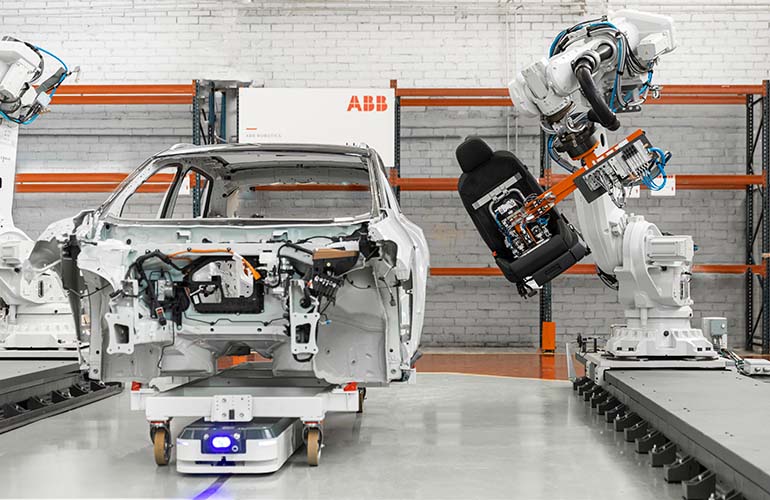 9. ABB paid $190M for ASTI Mobile Robotics
Thanks to the release of its third quarter 2021 financial results, we now know how much ABB paid to acquire ASTI Mobile Robotics. ABB spent $190 million, including $7 million in cash, in July 2021 to acquire the Spanish developer of autonomous mobile robots (AMRs). Here's how this deal compares to other recent acquisitions. Read Story
---
8. Leopard Imaging launches Hawk 3D depth camera for robotics
Leopard Imaging introduced its Hawk 3D depth camera for $349. The camera, which supports NVIDIA's Jetson edge AI and Isaac robotics platforms, is designed to deliver real-time, accurate depth perception. Read Story
---
7. Reliable Robotics raises $100M for autonomous flight tech
Reliable Robotics, a Mountain View, Calif.-based developer of autonomous flight technology, raised $100 million in Series C funding today. Founded in 2017, Reliable Robotics has now raised more than $133 million. Its technology handles all phases of flight, including taxi, takeoff, landing and parking. Licensed pilots remotely supervise each flight from a control center. Read Story
---
6. AutoStore stock surges during Oslo Stock Exchange IPO
AutoStore, a 2021 RBR50 Robotics Innovation Award Winner, made its debut this month on Euronext's Oslo Stock Exchange. The Norwegian robotics firm priced its initial public offering (IPO) at 31 Norwegian crowns per share, which valued the company at 103.5 billion crowns ($12.4 billion). According to Reuters, AutoStore is Norway's biggest IPO in two decades. Read Story
---
5. Wavemaker Labs acquires IP from agtech startup Abundant Robotics
Wavemaker Labs, a corporate venture studio and product development incubator, acquired the intellectual property from Abundant Robotics. Abundant Robotics, an agrobotics startup that spun out off SRI International in 2016, was developing a robot to harvest apples before it shut down in June. Wavemaker portfolio company Future Acres is exploring how to leverage some of the IP to potentially enhance its Carry mobile robot. Read Story
---
4. Why Waymo's cars keep hitting same SF dead-end street
Waymo's self-driving cars kept getting stuck on a dead-end street in San Francisco? According to Waymo, it has nothing to do with its autonomous driving technology being confused, a mapping issue, or a maneuver it's trying to perfect. Here's why. Read Story
---
3. Dexterity raises $140M to scale full-stack robotic picking
After emerging from stealth mode in July 2020 with $56.2 million in Series A funding, Redwood City, Calif.-based Dexterity today raised another $140 million in Series B equity funding and debt. The latest round valued Dexterity, which has already raised more than $200 million since it was founded in 2017, at $1.4 billion. Read Story
---
2. DeepMind acquires MuJoCo physics engine for robotics R&D
DeepMind, an AI research lab and subsidiary of Alphabet, acquired the MuJoCo physics engine for robotics research and development. DeepMind is currently working to open-source MuJoCo and make it free for everyone in 2022. When open-sourcing the system is complete, the GitHub repository will become the new home for MuJoco. Read Story
---
1. TurtleBot 4 re-designed from ground up with ROS 2
Clearpath Robotics and Open Robotics announced TurtleBot 4, the next generation of the popular open-source mobile robotics platform. TurtleBot 4 aims to build on the success of previous versions by providing a low-cost, fully extensible, ROS-enabled reference platform for robotics researchers, developers, and educators. Read Story