Listen to this article
What a month it was for robotics. Whether it was Intel winding down its RealSense business, and uncertainty surrounding the future of its popular depth cameras, or Bear Flag Robotics being acquired by John Deere, there was no shortage of robotics stories to cover in August.
Here are the Top 10 most popular robotics stories on The Robot Report in August 2021. Subscribe to The Robot Report's newsletter to stay updated on the robotics stories you need to know about.
---
10. 3 tips to developing outdoor robots for unstructured environments
Boulder, Colo.-based startup Scythe Robotics is building autonomous solutions for off-road environments, focusing first on a self-driving mower for commercial landscaping. Jack Morrison, co-founder & CEO of Scythe Robotics, shares tips about sensor selection, ruggedized hardware, and software optimization for its commercial mowers. Read Story
---
9. FedEx expands use of robots to sort small packages
FedEx, an RBR50 Robotics Innovation Award winner, continues to expand use of robotics to sort small packages. FedEx Ground deployed Berkshire Grey Robotic Product Sortation and Identification systems to small parcels daily at its facility in N.Y. Read Story
---
8. DroneDeploy acquires robotics software startup Rocos
DroneDeploy, a San Francisco-based commercial drone data company, acquired RBR50 company Rocos, a New Zealand-based robotics software company. Financial terms of the acquisition weren't disclosed. DroneDeploy said this acquisition will allow its customers to deploy and coordinate both aerial and ground robots on their job sites. Read Story
---
7. Meet CyberDog, Xiaomi's open-source quadruped
Xiaomi released a quadruped robot called CyberDog. The product is designed to meet the requirements of research engineers and hobbyists who want to develop code and applications for a quadruped robot, but don't want to pay for a platform like the Boston Dynamics Spot robot (about 1/10th of the cost of Spot). CyberDog is Xiaomi's first foray into quadruped robotics. Read Story
---
6. How Boston Dynamics makes Atlas run, flip & vault
What does it take for a robot to run, flip, vault, and leap like an athlete? Pat Marion, a senior robotics engineer at Boston Dynamics, explains how perception and adaptability enable Atlas to perform varied, high-energy behaviors like parkour. Read Story
---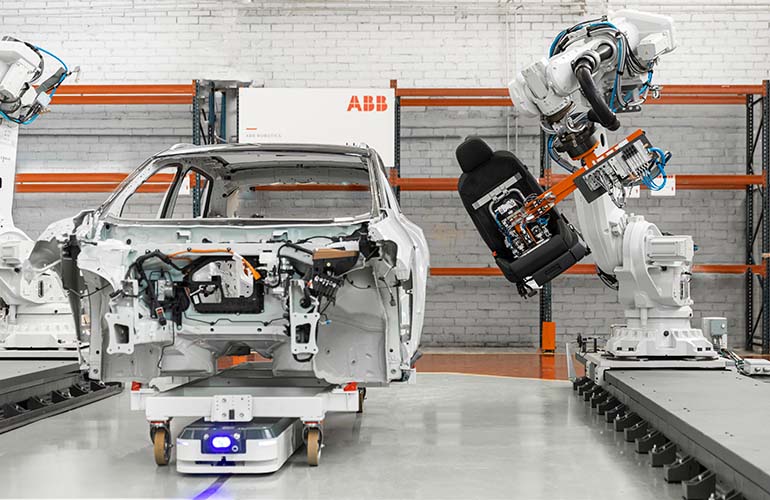 5. July 2021 robotics investments and acquisitions
The Robot Report tracked 37 robotics investments that totaled at least $1.14 billion in funding in July 2021. There also were 9 mergers and acquisitions worth at least $1.58 billion for the month. The largest round of the month went to Chinese company Meituan, which raised $400 million from Tencent in a stock offering.Read Story
---
4. Intel RealSense reminiscent of Kinect & Tango
Intel "winding down" the RealSense line could be a bombshell for roboticists. For the past six years, RealSense has been a go-to for industry and academia for low-cost, high-quality depth sensing. It found its way into the production design for many now-deployed robot platforms. Read Story
---
3. The Flying Ship Company to operate autonomous, low flying, marine based cargo logistics
The challenges of realizing Flying Ship Technologies vision for an semi-autonomous, ground based cargo delivery platform depends on real-time vessel system monitoring and reactive collision avoidance. PROBOTEK offers the experience and controls software solutions to make this a reality. Read Story
---
2. John Deere acquiring Bear Flag Robotics for $250M
Calif.-based Bear Flag Robotics, a developer of autonomous driving technology for tractors, is being acquired by John Deere for $250 million. John Deere said the deal accelerates the development of farm automation. Founded in 2017, Bear Flag Robotics retrofits its autonomy stack onto existing tractors. It uses cameras, LiDAR and radar technology for redundant, 360-degree situational awareness on a farm Read Story
---
1. Report: Intel RealSense business being shut down
"We are winding down our RealSense business and transitioning our computer vision talent, technology and products to focus on advancing innovative technologies that better support our core businesses and IDM 2.0 strategy," an Intel spokesperson said. "We will continue to meet our commitments to our current customers and are working with our employees and customers to ensure a smooth transition." Read Story