Listen to this article
From robotic tire changers, to Amazon's iRobot acquisition, to Hyundai's new Boston Dynamics AI Institute, there was no shortage of exciting robotics news last month.
Here are the 10 most popular robotics stories on The Robot Report in August. Subscribe to The Robot Report Newsletter to stay updated on the robotics stories you need to know about.
---
10. Amazon buying iRobot for $1.7B
Will Astro, Amazon's underwhelming consumer robot, soon be able to clean floors? Probably not. But Amazon upped the ante in its consumer robotics game by announcing it's acquiring iRobot, maker of the popular Roomba robot vacuum series, for about $1.7 billion. Amazon will acquire iRobot for $61 per share in an all-cash transaction, including iRobot's net debt. Completion of the transaction is subject to customary closing conditions. Read More
---
9. GrayMatter Robotics' sanding solution brings in $20M
GrayMatter Robotics announced that it has raised $20 million in Series A funding. The company's Scan&Sand system is a flexible robotic sander that can quickly adjust to objects with complex geometry. Scan&Sand works in high-mix, high-variety manufacturing facilities, and aims to increase productivity and enhance quality consistency while saving costs. The system stands out from typical robotic sanders that only work in mass production scenarios. Read More
---
8. Lessons learned in medical robotics development
Everyone wants to be innovative, but rarely is innovation a lightning strike of genius – especially within the robotics industry. Instead, it is an intentional process and methodology. This process is refined and modified over time to enable an organization's ability to think creatively and execute effectively. This is particularly important when you are solving problems in robotics that have many variables and cannot be clearly defined. Read More
---
7. Inside DHL's robotics ecosystem
DHL is using robotics to support numerous warehousing and logistics tasks. DHL innovates its logistics workflow and the tools and technologies deployed in DHL distribution centers around the world, as the company continually improves its efficiency. Sally Miller, DHL Supply Chain's chief information officer for North America, recently spoke to The Robot Report about the types of robots the company uses and the innovation cycle it employs to find the most effective solutions. Read More
---
6. iRobot laying off 10% of staff
iRobot, the maker of the popular Roomba robot vacuum, is laying off 10% of its staff, or about 140 employees. The layoffs are part of a restructuring that iRobot said will save the company up to $10 million in 2022 and between $30-$40 million in 2023. iRobot announced the layoffs on August 5, 2022 in its Q2 earnings results. This was the same day iRobot announced it was being acquired by Amazon for $1.7 billion. Read More
---
5. Ottonomy closes $3.3M seed round and announces Ottobot 2.0
RBR50 2021 honoree Ottonomy.IO completed its seed round funding of $3.3M. Connetic Ventures, Deeptech fund pi Ventures, and Branded Hospitality Ventures participated in this round. The company also announced an updated version of its autonomous delivery robot called Ottobot 2.0. With the closing of the seed round, Ottonomy.IO has raised a total of $4.9M. The company has a wide range of investors across the hospitality sector. Read More
---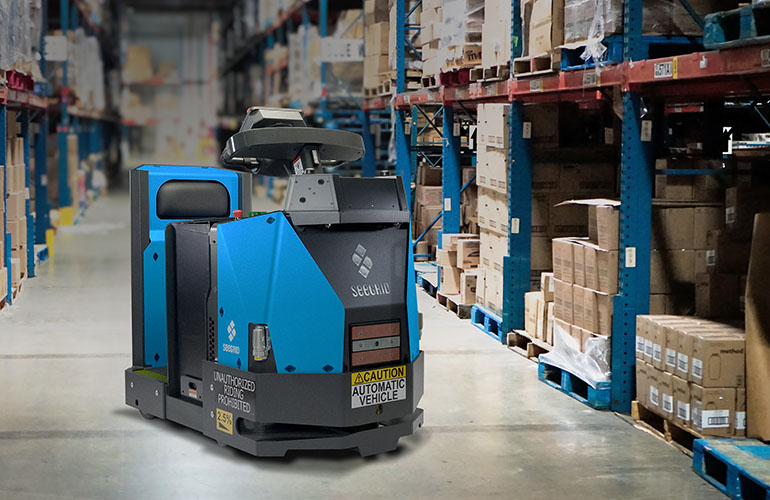 4. AMR maker Seegrid lays off 90 employees
There have been "significant" layoffs at Seegrid, a Pittsburgh-based developer of autonomous mobile robots (AMRs). Jim Rock, CEO of Seegrid, said about 90 employees were let go. The Robot Report has also seen multiple now-former employees post about the layoffs on LinkedIn. One of them said the layoffs were part of a company restructuring. Read More
---
3. Inside Amazon's robotics ecosystem
A decade after Amazon made its first foray into robotics with its acquisition of Kiva Systems, the e-commerce giant is acquiring iRobot for $1.7 billion. While completion of the transaction is still subject to customary closing conditions, the deal expands Amazon's already extensive robotics portfolio. Here's a look at the company's robotics acquisitions, some of its investments and its notable robots developed internally. Read More
---
2. Hyundai launches Boston Dynamics AI Institute
Hyundai Motor Group (Hyundai) announced the launch of the Boston Dynamics AI Institute. Hyundai and Boston Dynamics are making an initial investment of more than $400 million to make fundamental advances in artificial intelligence (AI), robotics and intelligent machines. The institute will be led by Marc Raibert, founder of Boston Dynamics. Hyundai said the name of the institute could change after its corporate registration is complete. Read More
---
1. RoboTire installs its first system at Discount Tire
RoboTire announced that it's installed and started operating its system at a Discount Tire in Fountain Hills, Arizona. The system can replace four tires on a passenger vehicle in less than 25 minutes. At the Discount Tire, the RoboTire System will remove, lift and install tire and wheel assemblies. RoboTire hopes that its system will reduce technician injuries that can be caused by repetitive heavy lifting. The system will be overseen by Discount Tire's technicians, who will also provide pressure monitoring and balancing services. Read More