Google is sending 25 new self-driving cars onto the streets of Mountain View, CA but John Deere reminds us that they already have tens of thousands of self-driving tractors in service around the world.
John Deere has been selling self-driving kits for their tractors for over 15 years. Their latest version, called AutoTrac, allows the self-driving tractor to follow pre-programmed routes. True, the technology in AutoTrac is less complex than the Google system, but it does the job as advertised and has been doing it successfully for years. When paired with a GPS RTK receiver and display, the AutoTrac kit can automatically steer the tractor. The kit is tied directly into the steering system on the tractor and provides up to 2″ accuracy.
Over 60% of new Deere tractors are outfitted with the AutoTrac software and kit (or other self-guidance technology) and can be found operating in more than 100 countries around the world. In fact, "John Deere is the largest operator of autonomous vehicles," said Catherine Sandoval, a California PUC commissioner.
John Deere isn't the only farm equipment manufacturer providing self-driving kits. There are many others including AGCO (Fendt), CNH Industrial (Case New Holland) and Kairos Autonomi to name just a few.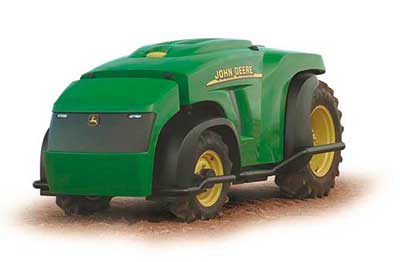 Deere has had self-driving, autonomous, cab-less concept tractors such as the one shown on the right available for discussion and possible sale but thus far they haven't replaced the kits. Farmers want the air-conditioned and cushioned cabin on their tractors to house all the monitors and other computer and automation technologies for the implements the tractor is towing. They want to remain in charge and the cab has become the hub of computerized farm automation.